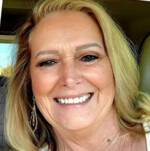 My personal chronicles and testimony of,
IN THE NAME OF JESUS...SIMPLY FAITH OR A MIRACLE?
January 11, 2010
Chapter One
WRITTEN BY: MARIAN C. CHADWICK, IN THE NAME OF JESUS | (EDITED BY BRFW)
I suppose I have always believed in faith and the scriptures in the Bible talking about faith, without action, is dead (James 2:17) and so forth. Having the faith of a mustard seed (Matthew 17:20) all seemed very fairytale-ish to me, but it was something I was taught and believed because it was in the Bible. I can remember throughout my lifetime calling on Jesus in various situations, without any hesitation, knowing He would take care of me. Almost certain – NO! – taking it for granted, that He would rescue me if I got into a tight spot.
Back to that faith and action stuff, when I would get into a difficult situation something inside me would always call on Jesus audibly, or in my mind, for HELP! My parents used faith as often as needed to keep us healthy, both mentally and physically. If we were sick, they would pray for God's healing by laying hands on us (Luke 4:40). Although they never hesitated to take us to the doctor or give us medication, as needed, they would always first ask God to heal our bodies. When we were sad or bad, as their first line of defense, my parents would pray over us for God to help them bring us back in line.
Now, I look back and understand the verse in the Bible about bringing up a child in the ways of the Lord (Proverbs 22:6) and, when they grow old, they will not depart from Him. We had a strong foundation in the Bible, our church, and our family. Were we perfect? Probably not. I think we thought we were too perfect and that everybody else was having all the fun. We found ways to create trouble so we could have some fun too. If our friends were sick, we wanted to be sick. Daddy knew when we were not really sick and give us Castor Oil….yuck, just in case. Of course, it tasted awful and cured any illness we claimed to have . . . very clever!
You noticed I went from "me" to "we." Yes, I have an older sister. We were four and a-half years apart and definitely had our own agendas in life. I think we fed off of each others' strengths and weaknesses to our own advantages. I was strong-willed and loved to play with Daddy and Sister hung out with Mom. As I look back on life, it's interesting how children acquire traits from their parents, both good and bad. I must say how very thankful I am for all of the wisdom and life experiences they poured into us as we grew up.
I could go into great detail with various stories and events of our lives from day one; however, on January 11, 2010, one of the most important events in my life happened when the power I have known my entire life became completely real to me. At 6:15 that evening, I called on the "Name of Jesus" (Mark 16:17), both in my mind and audibly, with absolutely no doubt He would be there to protect.
The words still ring in my ears, "In The Name of Jesus, I bind you Satan by the Holy Spirit, get out of my store!" There is not another script that could be written to hold so much power over our spiritual enemy – Satan – appearing in the form of a man and influencing a man, wanting to rob me in my store at the hand of a gun. It all began around 5:30 that evening while I was visiting with Kathy, my last customer of the day. My husband, Chuck, and I had discussed what to have for dinner and had decided on spaghetti. Since Kathy and I were talking and designing her new bracelet, Chuck said he would stop by the grocery store and pick up the items needed to prepare dinner. He and our dog, Jaxx, headed out. When Kathy and I finished up at the store, I would meet them at home.
As Kathy and I continued to visit, I realized it was after 6 p.m. (closing time). I went to the front door of the store and turned the CLOSED sign around, not thinking to lock the door as I normally would, and walked back to the counter. Kathy and I had been talking about the retirement of the Sparrow bead and how she may need that one on her garden-theme bracelet. Kathy asked, "Isn't there a scripture (Matthew 10:29) about the Sparrow in the Bible?" I replied, "Yes. He watches over me, He knows every hair on my head" and then I began singing the old hymn to her. The two of us had just entered into a time of worship – we both got chill bumps – the decision to have the Sparrow on her bracelet was done.
We were finalizing Kathy's purchase when a dark figure walked through the front door of the store. Not too surprising since we had a lot of last minute shoppers recently for birthday gifts and anniversary gifts – no internal alarms yet. As the figure came closer, my mind started analyzing the situation. Was it that cold outside? Is this a prank? Is this a friend of my husband's? What does he have in his hand? Kathy and I were looking at him when he starting shouting "Give me all of your money!" With disbelief, and in jest, I told him "We don't have any money it's all gone." He said "This is a robbery; give me all of your money!" I said "No. There is no money." Again he said "This is serious. Give me all of your money!" At that point, I went from kidding and thinking this is a joke to "Here we go Jesus – HELP!"
Staring straight into the robber's eyes trying to see through to his soul, even though he was wearing dark glasses, a dark windbreaker, and a baseball cap in an effort to disguise his identity, I shook my finger in his face and said "In The Name of Jesus, I bind you Satan by the Holy Spirit, get out of my store!"
After tapping his gun on the glass counter, which angered me to no end and embarrassed me in front of my customer, he stepped back, turned his weapon on Kathy and told her to get down on the floor. She took a step back and I said, "NO, she is not going to get on the floor! In The Name of Jesus, get out of my store!" As he began backing out of the store, screaming profanities (by Kathy's account), I am still rebuking him to get out of the store, telling him that he was on camera and that he would be arrested within five seconds.
My focus was so concentrated on the power of the Holy Spirit pushing him back and out of the store; I did not hear anything he said. I felt like a wall of power had come down between us and was pushing him away with every word spoken. He said "I'll be back _ _ _ _ _!" and he turned and ran out of the store with a hop in his step. I came around the counter and headed for the front door to see whether he was walking, running or driving away. In those last few seconds all I could see was light blue or grey, small to mid-size car, driving away in the dark without using its headlights.
At this point, Kathy had dialed 911 and handed the phone to me to provide details to the emergency dispatch operator. I was barking information as to what the gunman was driving, which direction he was headed and straining to remember every detail about the past 45 seconds of our lives when the Frisco police arrived. Kathy and I attempted to describe the entire event, still with awe in our minds as to what had just happened, still with no fear, simply with relief and disbelief.
The police were completely baffled when we relayed the information telling us that the gunman had just attempted another robbery of a business just a short distance away. Due to the adrenalin rush, Kathy and I were talking a mile a minute – kidding around with the police officers saying that, if they haven't been trained to use the Name of Jesus when they have no other weapon for protection, I was living proof of the power of the Holy Spirit. They, of course, did their obligatory duty as police officers saying "Lady you should have complied with the robber's wishes." "Oops . . . during those 45 seconds, being complacent never occurred to me." I justified my actions to the officers saying "If I had complied and given him what he asked for, there was no guarantee that he would leave without doing something terrible anyway."
As I see it, here is the reality of this type of situation. First, you have no control. Second, you have no control. What you do have are your instincts and your faith in the power of Jesus and the Holy Spirit from a lifetime of teachings, training and studying the Bible. My training was to call on the Name of Jesus without hesitation knowing He would protect us. The Bible says "No weapon formed against you will prosper (Isaiah 54:17)." I believe this includes Satan when he is accusing us in the face of God, we don't have the faith to withstand his attacks.
That fateful evening Kathy and I felt a powerful energy, spiritual really, and calmness in the store because we both knew Jesus was there in our midst (Matthew 18:20). Before the robber came into the store, the Holy Spirit had arrived as we were talking about the Sparrow and giving Glory to God in that moment.
I am thankful God protected us; and NO, I don't ever want to be put into this type of situation again during my lifetime. If something remotely similar happens again, I pray for continued faith and courage to react the same way without dire consequences. If it turns out differently then I know, without reservation, where I will spend eternity (1 John 2:17). And that, my friend, is the most important message in this story – knowing Jesus as your Lord and Savior.
If your Savior is not ALIVE (death, burial and resurrection for your sins), sitting on the right hand of God the Father (Colossians 3:1) in Heaven, and standing as an advocate (1 John 2:1) for you to God the Father, you should rethink your salvation instantly! You can only know that kind of assurance by asking Jesus Christ to forgive you for your sins and invite Him to come into your heart and to change anything in your life that is not pleasing to HIM – NOT Man!
As God has watched over me during my lifetime with all of the twists and turns to prepare me for that one opportunity to declare His Name, I'm so very thankful. By invoking the Name of Jesus and the power of the Holy Spirit, a little, obscure, boutique owner has confounded the wise, awed the doubtful, energized the faithful, and brought renewed faith to her and hundreds of friends and acquaintances she has had the privilege to come into contact with providing support and encouragement over her lifetime.
To God be the Glory – who is really the HERO in this story? I reaped the benefits of recognition for having FAITH in HIM! It still amazes me how much God loves us and how effortless it is to trust in Him. Never get too busy to thank God for everything in your life, good and bad. He is listening!
May I also say, faith is truly found in the word of God. My sister and I were always taught from HEART-to-HEAD that you really do have to come to Jesus Christ as a child not mentally challenging everything you read, but asking God to bring life from His words into your heart. Church is for people to come together and celebrate what God has done in our lives. If church is the only place you get feed and you are not feeding the spiritually sick and poor people in your life, how do you expect them to be physically well and rich?
Metaphorically, we can be totally rich with health, family, friends, business and so forth. It seems we have so much emphasis on money and building big buildings, we abort our newborn Christians with so much rhetoric, before they have a chance to mature into adult Christians, so they can continue to spread the gospel of Jesus Christ. Simply said, John 3:16 – that would be my little footnote.
I am SO not perfect and neither are you, but you are more precious to Him than the Sparrows He created, feeds and watches over daily.
His eye is on the Sparrow…..He watches over me! (Matthew 10:29)
---
29 Are not two little sparrows sold for a [a]copper coin? And yet not one of them falls to the ground apart from your Father's will. 30 But even the very hairs of your head are all numbered [for the Father is sovereign and has complete knowledge].
17 These signs will accompany those who have believed: in My name they will cast out demons, they will speak in new tongues; 18 they will pick up serpents, and if they drink anything deadly, it will not hurt them; they will lay hands on the sick, and they will get well."
AMPLIFIED BIBLE
---
Simply Faith or a Miracle?
WRITTEN BY:MARIAN C. CHADWICK, IN THE NAME OF JESUS 2012
CHAPTER TWO
I was born and raised in Texas. Mom and Dad came to Dallas when I was 6 months old, so Dallas, Texas is home. We moved to Busby, Arizona for a couple of years where Mom and Dad worked for an Evangelist on a college campus called "Miracle Valley". I remember dorm life with the college students, mostly people of color. There were lots of sawdust and tent revivals, nightly, loud, shouting sermons, people speaking in tongues, women and men running up and down the aisles kicking up sawdust and praising Jesus by uplifted hands. I loved watching the women with their skirts flapping as they jumped raising their hand praising the Lord, shouting and I would get right there with them until Dad would grab me and put me back in my seat. I loved sitting on the end seat where all the action was. There were people being healed after being anointing with oil and the laying on of hands by the preacher, casting out of demons in the Holy Name of Jesus, you name it we saw it all. We would hold our bible close to our chest because you never knew if one of those demons was going to try and get in you if according to the Evangelist; you weren't cover by the Blood of Jesus.
Sounds horrible to some, but let me tell you, when you've seen the power of God in action the fakes don't seem to shake your faith in today's Christianity. Knowledge is power and I'm very thankful for all the experiences, real or fake we were exposed to. Sure did help growing up knowing the difference between some of the charlatans in society we see today claiming to have this or that word from God. I learned to know my God and His voice and believe I know him well. Does that mean I can quote every scripture or give you advice about your every circumstance as it pertains to the Bible or your Christian walk? NO….I just know who God is in my life and always asked my friends to watch me get up and dust myself off if I fall and tell me if you learned anything good or bad about my circumstances. I'm pretty hard headed, so I fell a lot before I learned most of the lessons in my life. Still NOT perfect, Thank God!
Anyway……we came back to Texas and I grew up attending an Assembly of God church in South Dallas where my Dad was the Head Usher and Head Deacon for something like eighteen years. Almost like being the daughter of a preacher. They signed membership papers saying we would not wear makeup, short skirts, pants, cut our hair short, wear jewelry; watch TV….basically we could breathe in and out, STRICT. I remember watching my first TV show at a Catholic neighbor's home, "The Wizard of OZ". Boy did I get a spanking and grounded, first of all for disobeying my parents and secondly for going to a Catholic's home….OFF LIMITS. Eventually Mom and Dad lightened up bought us a TV and as I remember, we watched TV for a couple of nights and the tube blew out, so all we could hear was the sound. My first recollection was "Lost in Space" and boy did my imagination see things. Can I tell you how cool it was to get to see the re-runs? Amazing!
Mom and Dad worked so hard to afford the best of everything we wanted as they lived paycheck to paycheck to pay the bills and sometimes they would work second jobs so we could have a little extra. Mom was an incredible seamstress and made most of our clothes from Vogue, Butterick and McCall patterns. Dad and I hung out together. I was his little tomboy and loved to be outdoors with him, play in the yard, watering the plants; not to well I might add; digging in the dirt and animals, we loved all kinds of animals from rabbits to Chichiwawas dogs, chickens to Cockatiels. We had the best life I could imagine.
I mentioned our religion, but not our faith. Our faith and beliefs were carved out of the bible and poured into our spirits hourly, daily, weekly. Dad and Mom were always sure that what went in came out the right way. Mom was a voracious reader and her retention and interruption was exceptional by any scholar. I can't say I received that talent, but it did stick in my heart and mind. Dad would have devotionals on Saturday mornings on the living room couch, so if you spent the night with me, you got to sit in on devotionals, no questions ask. Yes, my friends made fun of me, but to this day they still remember the sweet spirit in our home. We of course were typical kids and thought we weren't paying any attention to what was being said or prayed, but now I know we really did.
We moved to Desoto, Texas my senior year which could have been very traumatic to move schools, but successfully I graduated high school at the Dallas school I had attended since a sophomore, barely. I worked part-time for a dentist and wanted to work full-time right away so I could be on my own and find my own place in society. As you can imagine, I searched to belong, find love, marriages, and no kids for me. I was a career women and on a fast track to nowhere. Yes, I finally settled down when I turned 24. Long story short, Dad asked me and my sister on Mother's Day in 1977…."Won't you try one more time to give your life to Jesus Christ and live a Christian life?" First time I could remember seeing my Dad cry over me and it broke my heart in my high or hung-over state from the night before. I said "Yes". It was PERSONAL now, not on Mom and Dad's coattail, but ME! You and me Jesus! Here we go…...Really? Just what Jesus had been asking me to do.
I could fill in all the twist and turns during the past 33 years, but it's not so different than many people's lives of marriage, divorce, struggles, hopes, career up and downs, etc. I call it, the Sex, Drugs, Rock and Roll of life. The main point is, God was with me all the way and He loves me. I sought the Lord with all my heart and wanted to please Him with my life. Living in the world with little thought of serving Jesus made it hard. I made more bad decisions with consequences that stung than spiritually healthy ones. The best part is I came out the other side, have turned the pages over and over to live in the here and now and not the past. I've cried, prayed, forgave, isolated my emotions to keep from getting hurt and to not be bitter towards people. I want to see what God sees in people, and sometimes it hard because of past personal recordings of life. All good lessons to learn and I am today the person of twist and turns in many life experiences I can share with those who have questions and need a kindred soul.
I just celebrated 20 years with my husband Chuck. He is my rock of love, unconditional and forever. Perfect? NO? God puts people in our lives that can help us reach our potential in HIM. We are like two rocks rubbing together to make the perfect diamonds. We are best friends, don't always agree, but agree to disagree when necessary. We both came from similar backgrounds, yet different. Together we make music in our minds and that's all that matters. We have grown stronger in the Lord over the years and taught each other many lessons about ourselves when we look into each other's faces. I thank God daily for my love for Chuck. You will have to ask him about his love for me.
I pray the love story with Jesus and my sweet husband continues for eternity as God has promised. He said we would rein as Priest and Kings depending on how we live our lives here on earth. I imagine I would be happy in any state as long as I have please my Lord Jesus Christ since the day of my re-dedication of Salvation in 1977. My spiritual birthday is as real to me as the day I was told I was born in 1953. I have a Dake's Annotated Bible my mother gave to me with my spiritual birthday written in it. Spiritual birth certificate so to speak, but don't be fooled. The bible says our names will be written in the Lambs Book of Life once we accept Jesus Christ as our personal Savior. Back to that death, burial and resurrection stuff. There is no compromise when it comes to it. Jesus was born of a Virgin, Mary through the Holy Spirit. He lived and walked on this earth for 33 years, was crucified on the cross for your sins, buried for 3 days, then resurrected to Heaven. Sitting at the right hand of our Father God and is our advocate. Satan is the accuser of you and me. We were saved by grace and not by works. You cannot work hard enough to go to Heaven; you are born into it through the blood of Jesus and by faith! You cannot get ready to be saved when you're good enough because you can't be good enough. Only Jesus is! You can take baby steps or giant leaps of faith depending on who you are in Christ. Milk or steak? At some point we all must graduate to wanting more of Christ and less of self. I'm not talking about being so Heavenly minded that you're no Earthly good. Pride starts to take over and you're right back where you started.
Simply Faith…….to be continued!