Video Surveillance - The Most Common Mistakes
Video surveillance is one of the fastest growing segments of church security. In a survey where security directors were asked what was the most effective security measure they had invested in, CCTV was the overwhelming favorite. However, video surveillance is also one of the most complex systems to purchase and deploy correctly.
Camera lens field of view -
The most common mistake when installing cameras is taking what your security dealer sells without question. Most cameras your security dealer sells have a 3.9-9mm lens that will only give you a 64 degree angle of view. While this may be a good lens for looking at a convenience store doorway, it does little to tell you what is going on in the room/area where it is installed. We recommend a 2.6mm lens which will give you a 90 degree angle of view, encompassing the entire area.
Example typical 3.9mm lens view: Notice how only the reception desk is shown.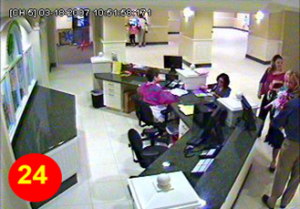 Example of a 2.6mm lens view: Notice how in entire area is covered.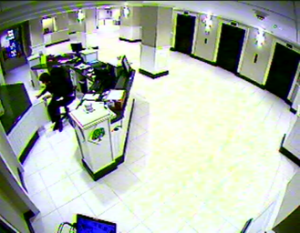 Camera Placement: People protection VS Asset protection
When placing cameras attention needs to be placed on people protection and not asset protection.
Example: In a children's wind of a church the camera needs to be placed at the end of the hallway over the exit door looking down the hallway into the building so as to get a good picture of the kidnapper as he/she exits the door.
This is exactly the opposite of placing the camera over the exit door looking outside to get a good picture of the burglar breaking into the door from outside.
Digital Video Recorder trends:
Most DVR products apply MJPEG, MPEG-4, JPEG 2000 or the H.264 format. These traditional compression format results in big-file size lessening storage capabilities and even worse for viewing over the internet. The market trend is asking for a high-compressed solution and heading for this new 4th generation compression format with H.265 which can achieve maximum storage capabilities and high performance.
Why H.265 compression technology?
The new industry standard H.265 compression technology is causing a revolution in the video world, enabling higher quality, lower system cost and new applications. New H.265 systems provide the same low-latency video that has been delivered by traditional H.264 based systems but with a reduction of up to 50% in bandwidth and storage requirement – or to put it another way, H.265 system can deliver significantly higher video quality for the same bandwidth – to save your internet resource (or higher transmission speed) and hard disk place also.