National Church Security Conference
CONFERENCE SPEAKERS: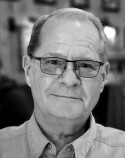 CHUCK CHADWICK, President of NOCSSM, Gatekeepers Security Services and Christian Security Institute
nocssm.org | gatekeeperssecurity.com | christiansi.org
Chuck heads the largest state licensed volunteer multi-church security force in America. Pre-eminent Authority in Church Security. Chuck is the founder and president of the National Organization for Church Security and Safety Management™ which has helped thousands of churches throughout America with security and safety issues that concern all churches both large and small. Chuck will be discussing options for church security in Texas and methodologies.
---